Helping you make Smarter choices about your money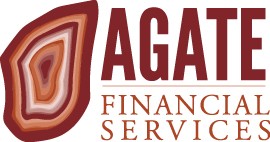 At Agate Financial Services, we help you make smarter choices about your money, so that you can live a life focused on the things that are more important to you than money.
There is important symbolism of the agate in our new name, Agate Financial Services.
The rough outer rind of the agate – refers to external forces you cannot control like the markets, the economy, news and events. The financial news in particular can be like a constantly flip-flopping glaring and distracting noise.
It's a rough world out there, at Agate Financial Services we help peel away/identify the layers (your beliefs, emotions and decisions) and help crystallize what is really important to you.
Next, we bring order by helping you build a plan, adding new layers, all focused to help you live your values and achieve your goals. We help you to make decisions that are in alignment with your values, your goals and your plan.
We keep you focused on the things you can control and endeavor to protect you from the things you cannot – those things that distract your focus and keep you up at night.
Treasury Inflation-Protected Securities (TIPS) can help hedge a bond portfolio against a potential spike in inflation.

An investor's personal situation should be considered when assessing his or her risk tolerance.

A discussion on the initial public offering (IPO) process, recent trends, and investment risks.

The new tax law includes several provisions that could benefit business owners, such as the pass-through deduction and write-offs for capital investments.