Helping you make Smarter choices about your money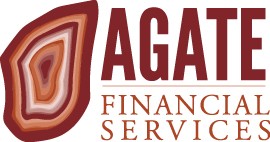 At Agate Financial Services, we help you make smarter choices about your money, so that you can live a life focused on the things that are more important to you than money.
There is important symbolism of the agate in our new name, Agate Financial Services.
The rough outer rind of the agate – refers to external forces you cannot control like the markets, the economy, news and events. The financial news in particular can be like a constantly flip-flopping glaring and distracting noise.
It's a rough world out there, at Agate Financial Services we help peel away/identify the layers (your beliefs, emotions and decisions) and help crystallize what is really important to you.
Next, we bring order by helping you build a plan, adding new layers, all focused to help you live your values and achieve your goals. We help you to make decisions that are in alignment with your values, your goals and your plan.
We keep you focused on the things you can control and endeavor to protect you from the things you cannot – those things that distract your focus and keep you up at night.
Find out how and why mergers and acquisitions take place (and why they matter to investors).

Younger baby boomers may be facing a more challenging retirement landscape than older members of the generation, according a recent survey.

Seven classic quotes about investing from successful investors, economists, and other insightful thinkers.

Cloud computing functions could help small companies increase productivity with smaller up-front costs.
Estimate the potential cost of waiting to purchase a long-term care insurance policy.

How Long Will It Take to Pay my Balance?

Estimate the future value of your current savings.

Estimate of the maximum amount of financing you can expect to get when you begin house hunting.