Helping you make Smarter choices about your money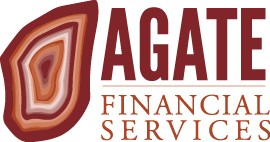 At Agate Financial Services, we help you make smarter choices about your money, so that you can live a life focused on the things that are more important to you than money.
There is important symbolism of the agate in our new name, Agate Financial Services.
The rough outer rind of the agate – refers to external forces you cannot control like the markets, the economy, news and events. The financial news in particular can be like a constantly flip-flopping glaring and distracting noise.
It's a rough world out there, at Agate Financial Services we help peel away/identify the layers (your beliefs, emotions and decisions) and help crystallize what is really important to you.
Next, we bring order by helping you build a plan, adding new layers, all focused to help you live your values and achieve your goals. We help you to make decisions that are in alignment with your values, your goals and your plan.
We keep you focused on the things you can control and endeavor to protect you from the things you cannot – those things that distract your focus and keep you up at night.

Invest for your future with our new online platform that combines access to a personal financial advisor with sophisticated technology. Start Now www.lplguidedwealth.com/advisor/AgateFinancialServices.
Guided Wealth Portfolios (GWP) is a centrally managed, algorithm-based, investment program sponsored by LPL Financial LLC (LPL). GWP uses proprietary, automated, computer algorithms of FutureAdvisor to generate investment recommendations based upon model portfolios constructed by LPL. FutureAdvisor and LPL are non-affiliated entities. If you are receiving advisory services in GWP from a separately registered investment advisor firm other than LPL or FutureAdvisor, LPL and FutureAdvisor are not affiliates of such advisor. Both LPL and FutureAdvisor are investment advisors registered with the U.S. Securities and Exchange Commission, and LPL is also a Member FINRA/SIPC.
All investing involves risk including loss of principal. No strategy assures success or protects against loss. There is no guarantee that a diversified portfolio will enhance overall returns or outperform a non-diversified portfolio. Diversification does not protect against market risk.

What is your risk number? Planning begins with an understanding of your risk tolerance.
Click on the icon below for your free risk analysis.